Christa Quarles, BSE '95, says one lesson she learned at Carnegie Mellon University was "extreme time management." Now, as the CEO of the restaurant reservation site OpenTable, she relies on those skills more than ever.
At Carnegie Mellon, Quarles played basketball, ran cross-country, worked as a research assistant in the business school, participated in a sorority, added a second major in German and graduated first among her fellow economics majors. That ability to advance multiple objectives while maintaining a commitment to excellence has been a hallmark of her career, first on Wall Street and later at technology companies.
At OpenTable, Quarles oversees more than 1,100 employees at 11 offices around the world. She travels frequently to visit member restaurants, attend board meetings and participate in conferences, and she makes it a priority to encourage fellow women in technology. For her, it's just the pace of life.
Carnegie Mellon University
I grew up southwest of Pittsburgh as one of seven kids. I graduated from Greensburg Central Catholic High School, and I came to Carnegie Mellon University in the early 1990s to play basketball and run cross-country. I wanted to study architecture, but one of my older sisters talked to me about the housing recession and said, "Do you really want to be part of that?" She was probably right, so I changed course.
I was good at math, so I made the transition to economics. There was something inherently interesting about the lack of precision of economics. I was interested in how business worked, how people made decisions and learning to explain how those things are connected.
One thing I learned at Carnegie Mellon was extreme time management. Carnegie Mellon was a tough school. You had to work really, really hard to get good grades. I had a part-time job. I was playing two sports. I was in a sorority. I was paying my way through school. You had to learn to prioritize in order to get the right outcome, because you couldn't possibly do everything. You had to set goals and figure out what was important and not important.
"Am I seeing my ability to really love my job every single day? If the signs go away from that, it's time to change."
Getting started on Wall Street
During college, I interned at Merrill Lynch, and my first job was in the fixed income research department there. I helped large financial institutions look at their portfolio of bonds and recommended which bonds they should hold and which they should shed.
The fixed-income desk was a thing of legend. It was male-dominated, intense and pressure-filled, and it taught me how to maneuver in high-pressure environments. As a young woman working on Wall Street, I learned to have thick skin and to ask for what you want.
My first boss told me you always want a profit and loss statement underneath you because it's an objective measure of your success. It made it easy to demonstrate what I had delivered, so there was no ambiguity as to whether I was successful. Subjective measures of success have the potential to become political and a matter of opinion.
I went to Harvard Business School and returned to Wall Street to work as a research analyst for internet stocks for 10 years before I left. I saw which companies went public, were successful after going public, and what their metrics were going in and afterward. I learned what the market did and did not value. If you come up working at one company, you have one anecdote, but I had hundreds of companies whose experiences I could draw from.
"When I was a stock analyst, it was obvious whether my call was right or not. You either delivered a result or you didn't."
Joining OpenTable
OpenTable was part of the original dot-com boom of 1998. Chuck Templeton founded it when he saw how frustrated his wife was with making a restaurant reservation on the phone. The company solves the very real needs of each restaurant. We put software inside the restaurant to help manage the number of diners coming through the restaurant, and we maximize the number of customers who can be seated. Historically you had somebody trying to hold all that information in their head. Consumers, too, naturally gravitated toward it, and that's only accelerating. Millennials don't want to talk to anybody on the phone.
I joined OpenTable in 2015 after working for a social games company that was bought by the Walt Disney Company and for a website called Nextdoor that serves as a private social network for neighborhoods. OpenTable represented an extraordinary opportunity with a two-sided marketplace where you cultivate both suppliers (restaurants) and consumers (diners). It had incredible scale, but there were opportunities it hadn't yet attacked. The people who work at OpenTable have that same hospitality gene that I saw at Disney, where it's all about creating delightful moments for people. They're a group of people who love coming to work.
Much of my job involves helping these small- to medium-sized businesses understand the data we provide about what's going on with their business. I travel frequently to visit restaurants and learn how OpenTable can serve as a partner for them. Each market has its own challenges. In New York, the real estate market is one of the biggest challenges, and rent is the highest percentage of each restaurant's costs. In California, the higher minimum wage and health care requirements have changed the economics of the labor market.
The Priceline Group acquired OpenTable in 2014, not long before I was hired, and as part of that we're working toward becoming a more global company. We have more than 1,100 employees and 11 offices, including six that are outside the U.S. You can open the app in London, Melbourne, Tokyo, Barcelona, Mexico City or Toronto and get a set of recommendations.
Originally, OpenTable was seen as a tool for upscale restaurants, but we would like to become a go-to for everyday, casual dining. We currently have more than 43,000 member restaurants, and we're growing all the time. We want to make sure joining OpenTable is as important for a new restaurant as signing its lease.
My favorite feature of the OpenTable app is called "near me now." You hit the button and see what's available around you right now. In San Francisco, for example, when my husband finished his meeting early and wanted to meet for dinner, he could click "near me now" and filter through nearby options. I travel all the time, so being able to get those local recommendations is hugely beneficial. It's not really a reservation anymore but a way to tell the restaurant, "Hold my seat; I'm coming."
Networking
I had several mentors along the way. At Carnegie Mellon, Richard Tucker, a longtime professor and administrator who retired a couple of years ago, saw a lot in me. He made suggestions about studying abroad and pushed me beyond what I thought I was capable of. Barbara Lazarus, the associate provost for academic affairs who has since passed away, pushed me to apply for scholarships and surround myself with people who had a broader perspective and more experience.
My first boss after business school introduced me to Sue Decker, who had been a research analyst at the investment bank Donaldson, Lufkin & Jenrette and had just started at Yahoo! when I was starting my career as a research analyst. She graciously suggested which industry made more sense for me to cover and continues to provide helpful career advice.
I take time to give advice to men and women I work with, but I am especially mindful of the challenges women face to get ahead in business. I am always giving advice on aspects even beyond business, such as how to manage a new baby and how to respond when you feel your boss isn't seeing your potential.
I do a lot of speaking and trying to share my own experience as reference points for others' careers. I try to be a facilitator of connections. There is this very embedded, often male network in business. How do we include women in the network? Now that I sit on the board at Kimberly-Clark, I get a lot of board inquiries, so I pass them on to other women in my network.
Advice for students
For someone who wants to become a CEO, it's really about building a skill set for yourself. My time on Wall Street was valuable because I had an extraordinary amount of pattern recognition and understood value ascribed based on investments made. Product management, engineering and a desire to lead are all good things to have.
For someone who wants to go into the technology industry, a strong technology and analytical background is always helpful. Even though I don't have a computer science background, I learned a lot about technology at Carnegie Mellon. I remember taking a machine translation class in 1994. Carnegie Mellon always seemed to be ahead of the curve of what was happening technologically.
by Tricia Miller Klapheke
Related Reading from the Archives
LYENDA SIMPSON DELP, MSIA '97
Trading and Globetrotting
Summer 2017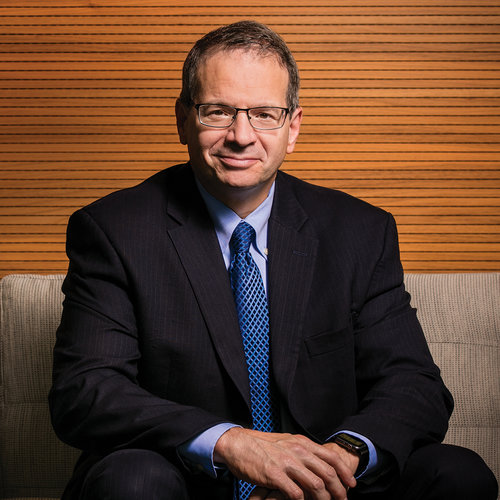 Entrepreneurship meets leadership
Fall 2016